Our lifelike Nollaig Alpine Christmas tree offers you a quick and easy set up.
Product Features
Large range: Available in 1.2m to an incredible 2.4m
Bushy & full-looking: Extensive number of branch tips
Great colour
Hyper-Realistic look
Easy assembly: Attached Hinged Branches
Sturdy base: Folding metal stand with plastic tips to prevent scratching
Indoor use only
Height measured from the floor
Reasons you'll love the Nollaig Alpine Christmas Tree
One of the lushest and densest Christmas trees in Singapore.
Traditional look with a sturdy built
"Extra-Sturdy" folding base stand
Traditional and great quality
| | | | |
| --- | --- | --- | --- |
| Height | Branch Tips | Usual Price | Promotional Price |
| 1.2m (4ft) | 280 | $89 | $39 |
| 1.5m (5ft) | 500 | $129 | $59 |
| 1.8m (6ft) | 660 | $189 | $89 |
| 2.1m (7ft) | 925 | $219 | $119 |
| 2.4m (8ft) | 1280 | $269 | $149 |
Our Nollaig Alpine Christmas Tree – The Best Artificial Christmas Tree
We are proud to say that our Nollaig Alpine Christmas trees by Dazzle Décor is of the finest quality in Singapore. Our trees are long lasting and you can expect them to last for 10 years easily. Save your money by owning our excellent Christmas tree. One tree for 10 years!
The Nollaig Alpine Christmas tree may look similar to the mass market Alpine Christmas trees you see around Singapore, but they are incomparable. By working with our manufacturing partners, we took a step further and re-engineered the artificial form of the Alpine tree, making it even more durable, lasting and realistic.
Using the latest German Christmas tree manufacturing techniques, we have created the best Christmas trees in Singapore.
OUR AWESOME CHRISTMAS TREES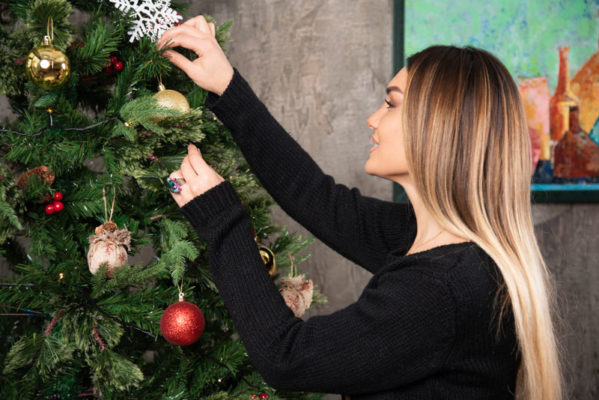 Self-Collapse Branches for easy Assembling and Dismantling
Avoid the hassle of manually spreading the branches in place while setting up a Christmas Tree. With Dazzle Decor's Self-Collapse Branches, a simple act of putting the tree upright will allow all the branches to fall into place. Moreover, this will save a whole lot of trouble for storage as flipping the tree upside down will bring the branches back in position for fitting into the packing carton.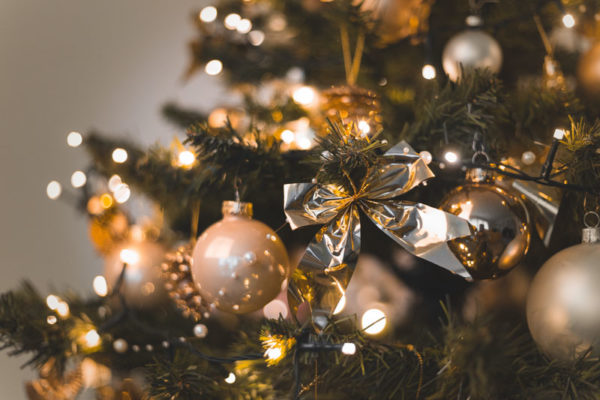 Ultra Realistic, Hyper Dense
We pride ourselves with designing the best Christmas Trees in Singapore. Why we say so? If you place any of our trees beside an actual live tree, you can spot almost no difference at all. The shade of green used in all our trees are of a darker tone which makes them look extremely realistic, in contrast with most artificial trees which are light in colour.
REJECT SUB-STANDARD CHRISTMAS TREES
Avoid online misrepresentation and major disappointment this Christmas. We understand the frustration of receiving a product purchased online that looks almost nothing like what was shown. Enjoy a memorable festive season with your loved ones by choosing quality.
"I regret this purchase."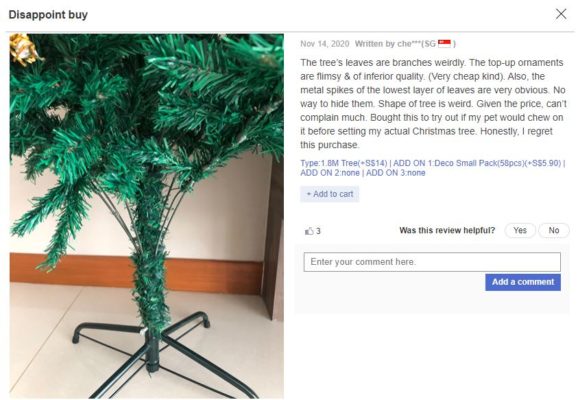 "…complete waste of money!"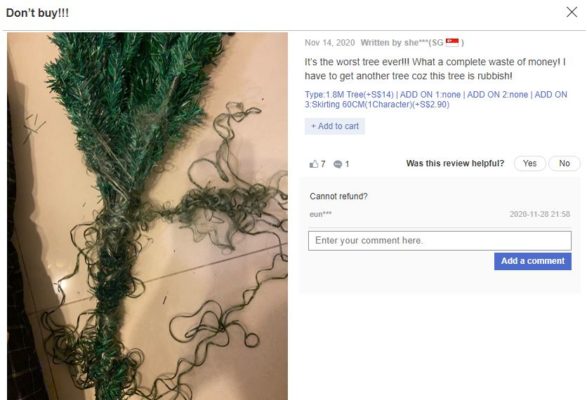 OUR ACTUAL NOLLAIG ALPINE CHRISTMAS TREE
Our photos are all 100% taken in our very own studio with minimal edits because our trees come as good as they look.
In fact, we are so confident in our Christmas trees that we dare show video footages of them unedited.
Actual Product Photo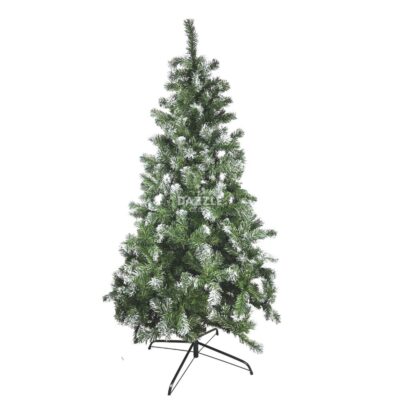 OUR RAVING REVIEWS
Don't just take our word for it. See what our many happy customers are saying!



Enjoy a peace of mind when you choose quality. We guarantee our premium Christmas trees are the most affordable in Singapore.
Installation Assembly Guide
Our trees are so easy to assemble that it can be shown in these few steps! Otherwise, check out our comprehensive tree set up guide here!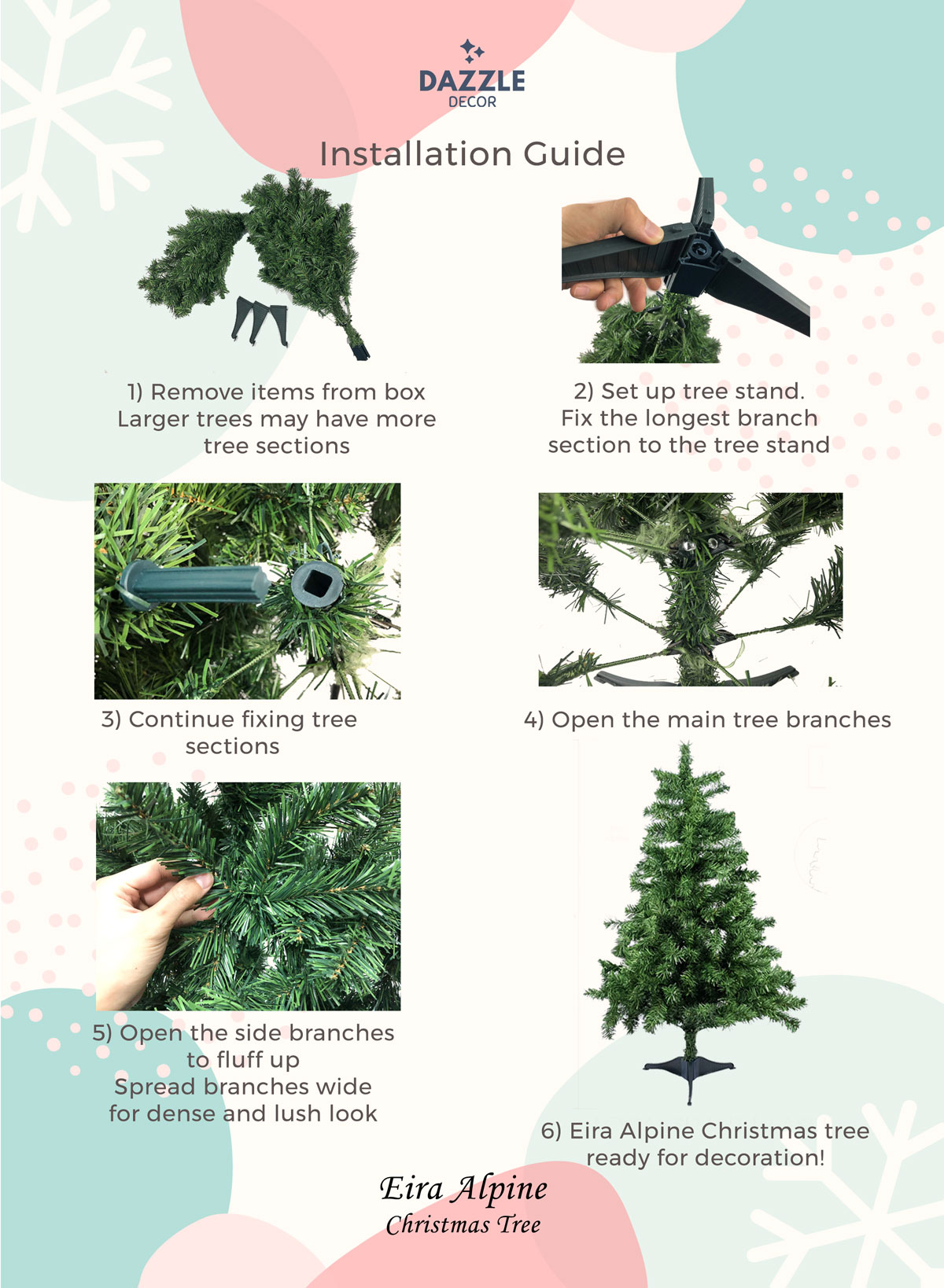 Our Eira – Alpine Christmas trees has been used in many shopping malls and homes. With many positive testimonials from our customers, we know you'll enjoy your Eira – Alpine artificial Christmas tree.
For our latest updates, follow us on Instagram.